Wide Receiver NFL Draft Prospects
3 min read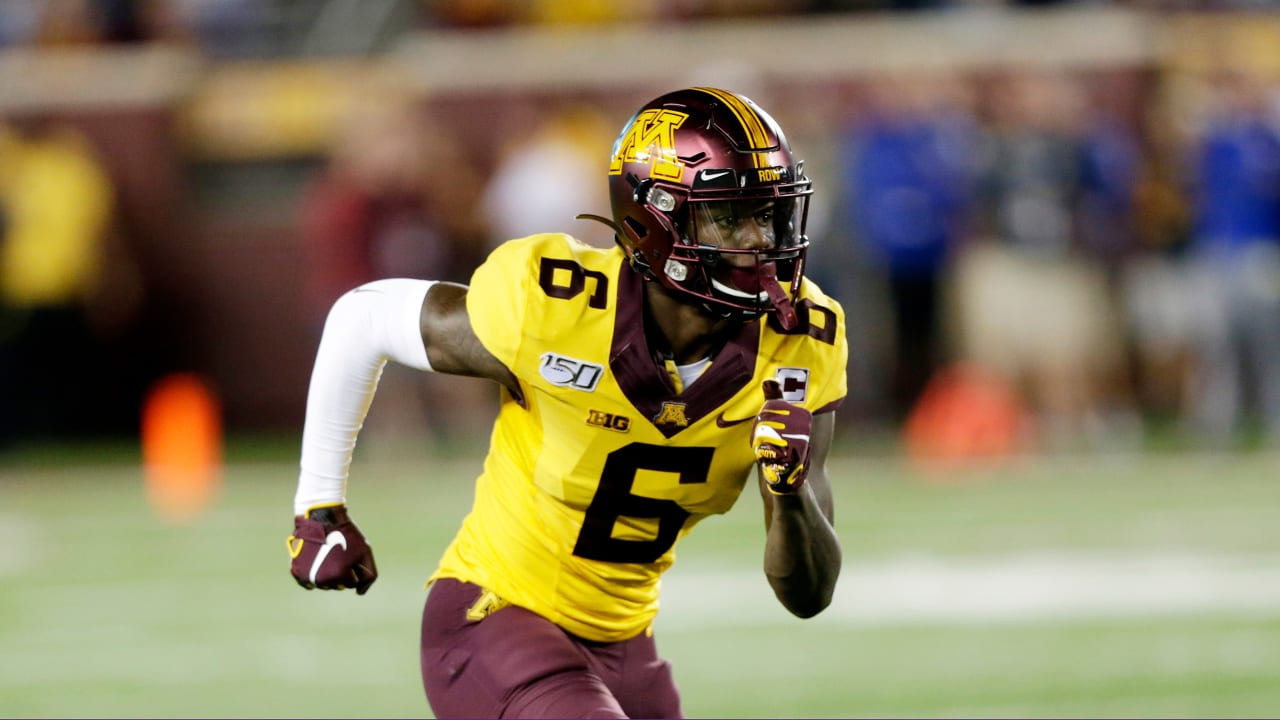 In the lead-up to the 2020 NFL Draft, Vikings.com is taking a position-by-position look at prospects who have garnered a range of attention from national outlets. The series will include rankings by national outlets, stats and background information for multiple prospects. We'll also include comments that experts shared during interviews.
EAGAN, Minn. — The 2020 NFL Draft is less than a month away, as the league's annual marquee event will be held April 23-25.
The Vikings are currently scheduled to have 12 picks in the draft, including a pair of first-round selections. Minnesota originally held the 25th overall pick, but now also has the 22nd selection after acquiring the pick from Buffalo in a trade for wide receiver Stefon Diggs.
Is wide receiver now a priority for the Vikings in the upcoming draft? Ron Johnson, an analyst for FOX 9 and KFAN 100.3-FM, believes so.
"I'd say they have to get one in the first or second round," Johnson said. "Nothing against the guys behind Adam Thielen, but we know Adam worked well with Stefon Diggs. When teams have two guys, it takes the burden off one and allows teams to not just double one guy. So, I think it has to be an early need.
"With 12 picks, I think the Vikings need to spend two or three picks on a receiver, just based off this class being so deep," Johnson said. "They're not going to get Jerry Jeudy, CeeDee Lamb or Henry Ruggs III, but other guys could fall to you with those two first-round picks."
Johnson, who starred at the University of Minnesota before playing for the Ravens, weighed in on several prospects at the position.
NFL.com's Daniel Jeremiah currently has eight wide receivers in his overall Top 50: 9. Lamb, 10. Jeudy, 11. Ruggs III, 14. Jefferson, 27. Aiyuk, 28. Higgins, 36. Shenault, Jr., 44. Mims. Hamler at one point was No. 46 but was moved down.
Kiper has five wide receivers in his overall Top 25: 9. Jeudy, 11. Lamb, 13. Ruggs III 20. Higgins and 22. Jefferson. He originally had Reagor as his 10th-rannked WR but recently included Notre Dame's Chase Claypool to round out his list.
PFF included 16 wide receivers in its overall Top 100: 5. Lamb, 6. Jeudy, 15. Shenault, Jr., 20. Ruggs III, 23. Higgins, 28. Reagor, 31. Aiyuk, 37. Mims, 39. Pittman, Jr., 40. Jauan Jennings (Tennessee), 44. Johnson, 68. Jefferson, 80. K.J. Hill (Ohio State), 82. Hamler, 92. John Hightower (Boise State), 99. Van Jefferson (Florida). Jenning is PFF's 10th-ranked wide receiver.
Here's a look at the top wide receiver prospects in the 2020 NFL Draft, along with a few players Ron Johnson has his eye on in the coming weeks.
https://www.vikings.com/news/wide-receiver-2020-nfl-draft-prospects-after-stefon-diggs-trade